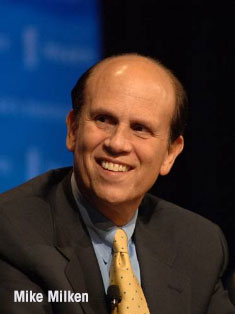 Financier Michael Milken – widely known as Mike – played a major role in the financial success of Reginald F. Lewis in 1987 by providing a $1 Billion guarantee of capital, which Mr. Lewis, then an unknown in high finance, used to qualify as a bidder on Beatrice International Food Company. Mike's investment bank, Drexel Burnham Lambert, was a minority shareholder in Mr. Lewis' TLC Beatrice International until TK year.
"More importantly," says Mike, "Reg and I became friends who shared a strong bond of trust and respect."
The story actually begins in 1965, two decades before they met. Mike was a student at the University of California, Berkeley, and returned on summer break to his home in Los Angeles. That August, riots erupted in the South Central LA neighborhood of Watts, leading Mike to pursue expanding access to financial capital. (see, for example, "The Democratization of Capital").
Beginning in 1969, Mike financed thousands of companies that collectively created millions of jobs. In 1982 he established the Milken Family Foundation. A recent article called him a "genius game changer who is saving lives."
Mike is chairman of the Milken Institute, an economic think tank. Mike graduated from Berkeley with highest honors and earned his MBA at the Wharton School. He and his wife, Lori, who are members of the Giving Pledge, have three children and 10 grandchildren.
We recently sat down with Mike to discuss his relationship with Reg Lewis.
Q: How did you first learn of and meet Mr. Lewis?
A: Earl Graves, the founder of Black Enterprise magazine, first told me about him; and then my friend Tom Bradley, the Mayor of Los Angeles, mentioned that this brilliant lawyer and businessman was someone I should meet. Soon I'd heard about his tremendous success in turning around the fortunes of the McCall Pattern Company and we invited him to join us at Drexel's 1985 institutional research conference. As soon as I met him, I was impressed.
Q: How did Mr. Lewis come to learn of the Beatrice deal?
A: We had helped Kohlberg Kravis Roberts & Co. buy Beatrice Foods Company and it was a public record. Reg developed a plan to buy the Beatrice International Foods division and rename it TLC Beatrice International. We began working with him in 1986, but I didn't rush into it – I wanted to be sure he could handle such a tough deal with complex tax and international operating components. Eventually, we were pleased to provide nearly $1 billion in financing when the transaction closed in 1987. And it was more than a financial deal – it was emotional because it bookended the experiences that began for me on the streets of Watts decades earlier.
Q: What characteristics did Mr. Lewis have that encouraged you to "give him a bigger bat to swing with" and back him for $1 billion?
A: That metaphor of "a bigger bat" is not a coincidence. I considered Reg to be "the Jackie Robinson of the business world." What impressed me most was that he did his homework before any transaction. That may seem like an obvious requirement, but you'd be surprised how many entrepreneurs charge ahead without adequate due diligence. Reg worked hard to develop a deep understanding of the deal and then he carefully built a strategy.
Q: According to Mr. Lewis's book Why Should White Guys Have All the Fun, much of the deal focuses on the near simultaneous acquisition of the company and divestiture of pieces to help pay down debt. How can you describe the type of stress that comes with? How was Mr. Lewis able to see it through?
A: In addition to his perseverance, attention to detail and focus on strategy, Reg had the capacity to see both sides of the balance sheet – the operating side and the capital-structure side. That was well illustrated in the McCalls transaction. Remember, this was a time when the sewing industry was in decline as more and more women gave up homemaking chores to seize the new employment opportunities that were opening up to them. It was a tough challenge, but Reg did a fantastic job and accomplished everything he set out to do.
Q: Is there still a color/culture barrier that makes these deals tougher on minorities? If so, what sets Mr. Lewis and others with similar traits apart?
A: We still have a way to go, but things have changed for the better over the last 30 years thanks to pioneers like Earl Graves, Reg Lewis and Jesse Jackson, who ran for President in the 1980s.
Q: What do you want people to remember from the Beatrice deal?
A: Many African-American leaders have talked to me about and said it was a business turning point comparable to the impact of Jesse Jackson in politics.
Q: What advice do you give to entrepreneurs who aspire to these types of deals?
A: Start with smaller transactions to get experience and then do your homework; and then do more homework.
Q: Who are some of the other people and organizations you are proud to have backed?
A: There are literally thousands of businesses we financed since 1969 that became engines of job creation. (Click here for some examples.) Among the entrepreneurs that stand out in my mind, in addition to Reg Lewis, are such pioneers as Eli Broad (real estate and finance), Armand Hammer (energy), Henry Kravis and George Roberts (private equity), Carl Lindner (insurance), Craig McCaw (cellular telephones), Bill McGowan (telecommunications), John Malone (cable), Rupert Murdoch (media), Steven and Mitch Rales (industrial), Len Riggio (book retailing), Steve Ross (entertainment distribution), Mel Simon (shopping malls), Bob Toll (homebuilding), Ted Turner (cable networks) and Steve Wynn (resorts) among many other leaders.
Q: If Mr. Lewis were alive today, what would he be investing in?
A: He might have followed a path similar to what Steve and Mitch Rales have done in building the Danaher Corporation into one of America's most successful diversified industrial companies with operations in a wide range of science and technology sectors.
Q: Mr. Lewis gave away millions to educational, cultural and political causes including Harvard, Howard, Dance Theatre of Harlem and Jesse Jackson's presidential campaign. You started the Milken Family Foundation, and later the Milken Institute, to change the world in creative ways. Why do we see so many successful entrepreneurs give back?
A: Reg shared my belief that no matter what level of success we achieve, we all want a meaningful life in a just society for our children; and for that to happen, all children must have that same opportunity.